Make memories with your dogs.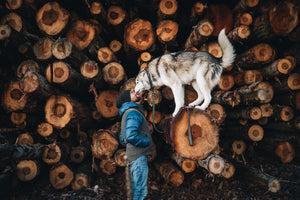 Our Story
Kelly + Loki
When he was young, leaving Loki home alone was not a great option — he had found ways to escape so many times. Eventually, I started to bring Loki to work. This went on for quite awhile, with my coworkers being more than pleased to have a fuzzy stress reliever roaming around. Then one Thursday, bureaucracy had its ugly way, and I was told that I could no longer bring Loki to the office. The idea of leaving Loki alone again was no longer about his bad boy tendencies, but rather my preference to not be apart. So I submitted my resignation on Friday. I didn't like being chained to that desk anyway.
Read More
Living in Colorado

where the adventures never end
Meet Loki
I'm Loki. I live in the Mile High City of Denver, Colorado. I'm a husky/arctic wolf/malamute mix - in other words, I'm a low content wolfdog. During a blizzard in December of 2012, my dad, Kelly Lund, took a long drive across the Rocky Mountains and brought me home - our first of many adventures.
Read More
Meet Raven
Raven entered Kelly and Loki's world in December of 2021. Having fostered numerous dogs, Kelly had received an email about Raven in the Los Angeles County pound, coincidentally, Kelly and Loki were nearby and decided to pick him up not knowing if they would foster Raven temporarily or adopt him forever. Several months later, Raven officially became a permanent part of their family.
Read More